Alpha Cyclodextrin sulfate & Hydrocortisone phosphate
Alpha-Cyclodextrin (synonyms: cyclohexaamylose, cyclomaltohexaose, alpha-Schar-dinger dextrin) is a non-reducing cyclic saccharide comprised of six glucose units linked by alpha-1, 4 bonds.
It is produced by the action of cyclodextrin glucosyltransferase (CGTase, EC 2.4.1.19) on hydrolysed starch syrups at neutral pH (6.0–7.0) and moderate temperature (35–40°C).
The annular (or doughnut-shaped) structure of alpha-cyclodextrin provides a hydrophobic cavity that allows formation of inclusion complexes with a variety of non-polar organic molecules of appropriate size.
The hydrophilic nature of the outer surface of the cyclic structure makes alpha-cyclodextrin water-soluble.
Other name: Cyclohexapentylose
CAS Registry Number: 10016-20-3
MF: C36H60O30
MW: 972.84
EINECS NO.: 233-007-4
Appearance: white crystalline or powder
Assay:99%min
[Structure]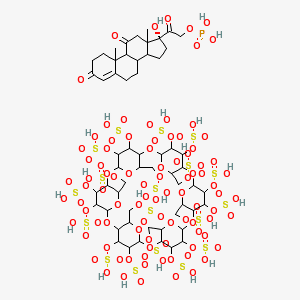 [ Properties Computed from Structure]
Gamma-cyclodextrin is a ring-shaped molecule made up of eight glucose units linked by alpha-1,4-bonds. The solubility degree of gamma-cyclodextrin in water is 23.2 g/100ml @ 25°C, which is higher than alpha-cyclodextrin and beta-cyclodextrin, and it is used to allow formation of inclusion complexes with bigger molecules.
CAS No.: 17465-86-0
Molecular Formula: C48H80O40
Molecular Weight: 1297.12
Application:
Gamma-cyclodextrin can be used as a carrier for flavours, sweeteners, and colours. In chemistry it is a valuable chemical reagent. When gamma-cyclodextrin exists, fluorescence intensity of fluorescence pigment will become much bigger, so it is used as the analysis of protein and amino acid. Gamma-cyclodextrin is also used to separate long-chain organic compound, racemic modification and so on. Besides, the adsorbent made by gamma-cyclodextrin is used chromatographic analysis. It also can be used as complexing agent and cultivation agent in study of enzymatic activity.
Save